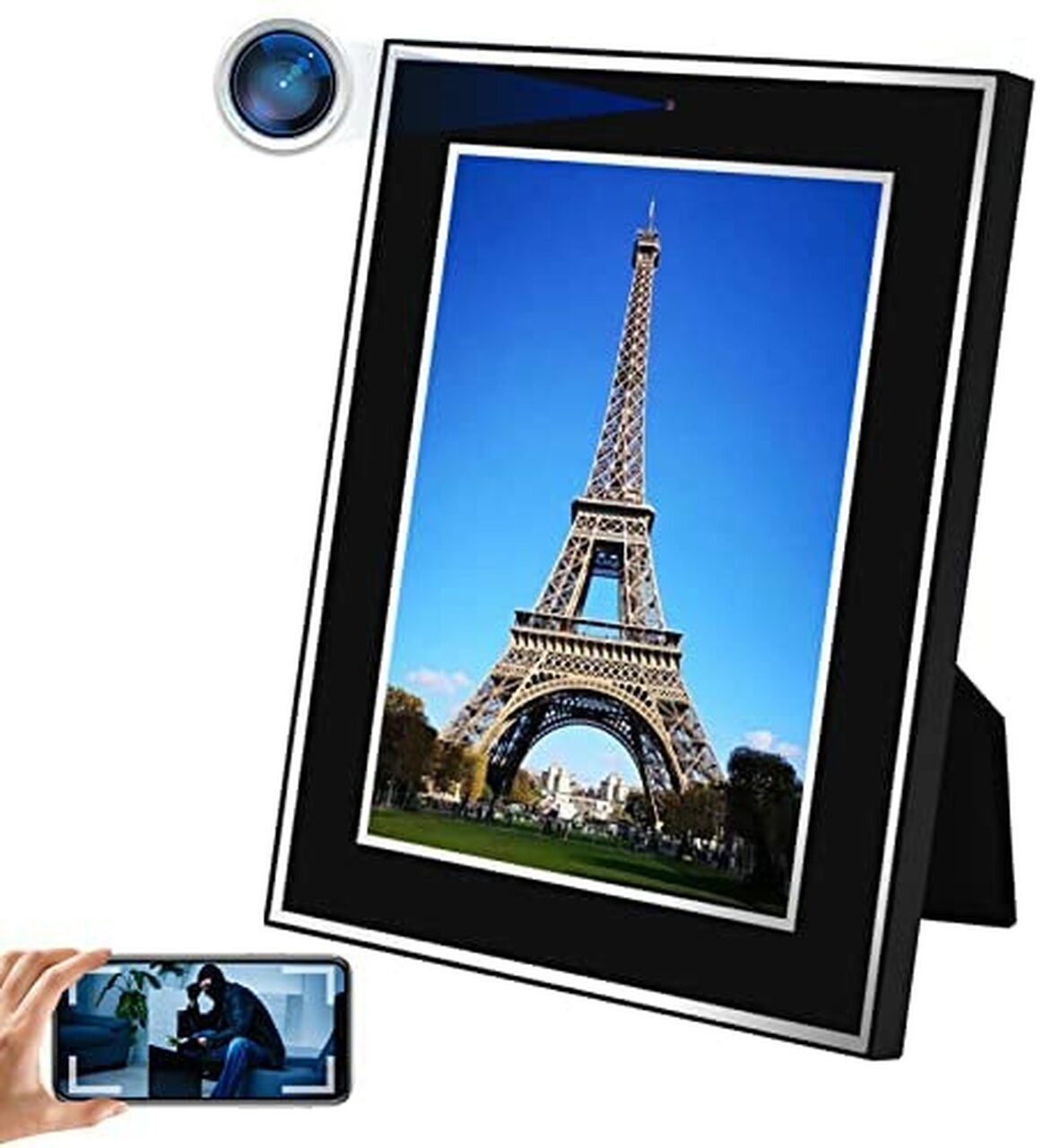 HD 1080P WIFI Picture Frame Camera
Product Description:
- 1080P HD Resolution
- View on iOS/Android
- Real Time Weather
- Picture has Hidden Camera
- Save Recordings on SD Card
- Easy to Setup
TRACK ANYWHERE ANYTTIME ALL AROUND THE WORLD: Uses GPS and satellite connectivity. No cellular network required!

POWERED BY: 4 AAA *Energizer Lithium-ion batteries(included) or with optional universal wiring harness for external power.

LIGHTWEIGHT PORTABLE DEVICE: Weighs less than 4oz. Convenient size allows it to be concealed and travel anywhere.

TRACK ASSETS, VEHICLES, AND PEOPLE IN REAL TIME: Tracks in areas with no cellular reception due to satellite technology. Keep track of boats, expensive valuables, and other items in hard to track locations.

100% SATELLITE TECHNOLOGY: Allows it to communicate from some of the most remote locations around the world.
THE HD 1080P WIFI PICTURE FRAME VIDEO CAMERA
The HD 1080P WIFI Picture Frame Video Camera is a nanny cam that looks like a picutre frame for covert recording. The Picture Frame WIFI camera can be connected to a WIFI network and watched remotely from any location. Recordings can also be saved onto a micro SD card (not included). The camera has support for motion activated recording and looped recording.
WHY CHOOSE THIS WIFI CAMERA
The Picture Frame is covert and the camera is hard to detect for the naked eye. It is also a less common item that people would suspect as a camera. It is a rare device that isn't well known to the average person. It can be streamed remotely from any smart phone running iOS or Android.
USES
Nanny Cam
Watch Home on Vacation
Watch Office
Problems With Spouse
Watch Children
Domestic Abuse at Work or Home
Child Abuse
Divorce Cases
Monitor Pets
FEATURES
Quick and easy set up
Can be plugged in for a constant charge
Text message notifications
Free application for iOS or Android
Micro SD card support
WHAT'S INCLUDED?
1080P WIFI Weather Station Camera
Outdoor Weather Station
Manual
Quick guide
Screws x 3
Back cover
USB Cable
Disk drivers
1 Year Manufacturers Warranty
SPECIFICATIONS
Video Resolution: 4K/1080P
Video frame rate: 25 frames per second
Visual Angle: 90 degrees
Storage Support: Up to 128 GB micro SD card
Working Time: 3-4 hours
Charging Time: 5-6 hours
Mobile Operating System: Android/iOS
Computer Operating System: Windows/MAC OS X
INSTRUCTIONS ON HOW TO CONNECT TO WIFI
Download free app called "Tuya Smart" in app store or Google Play Store.
Make sure you are connected to your existing WIFI network.
Open the application. Register your email or phone number and Log in to your account.
Select the + at top right of home page. Then select Security & Video Surveillance > Smart Camera.
Reset the camera by turning on the camera and holding the reset button until you see the BLUE light go off. It will then come back on after 10 seconds.
Put in the WIFI Password. (NOTE: WILL ONLY WORK WITH 2.4 GHz. WILL NOT WORK ON 5.0)
Tap Next to pair the device with app. Use the device's camera to scan the QR code on the phone screen.
Once the Picture Frame has connected to your Wi-Fi, tap Done. Setup is complete.
FAQ
Q: How do I configure the device for text message notifications?
A: Open up the application and click the Gear icon on the right. Select Device settings and choose Alarm Config. Adjust the desired sensitivity and save the settings.
Q: I can only see this device when I am within range. How do I see it when I leave the house?
A: Make sure you connect the device to your personal WIFI network. If you are connected to the device's unique WIFI, it is only going to work when you are in within range. Follow the directions above to connect it to your home WIFI.
Q: Can I record directly from my phone?
A: Yes you can take still photos and also record video and audio right from the application.
Q: Does this device stream Audio, too?
A: Yes it does.