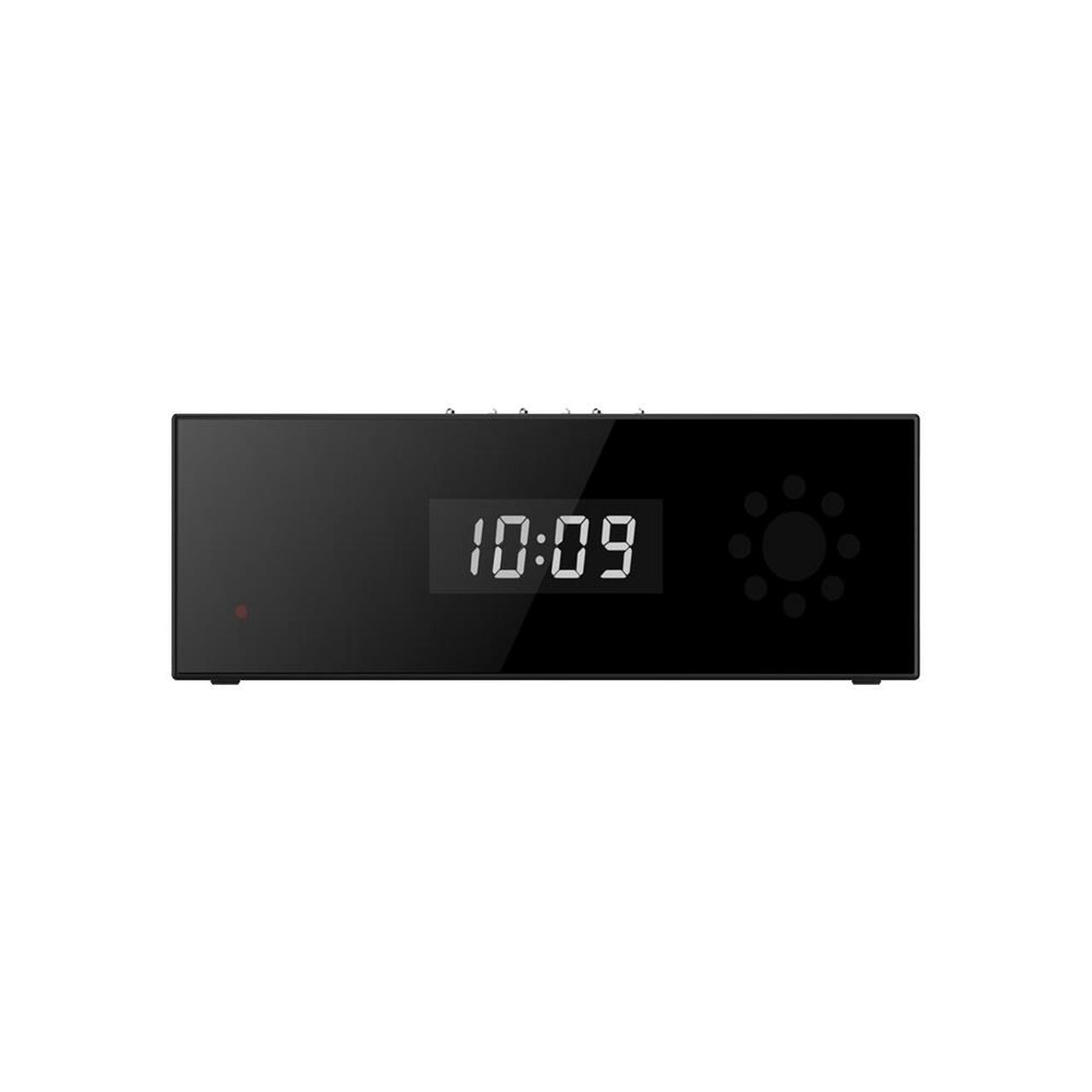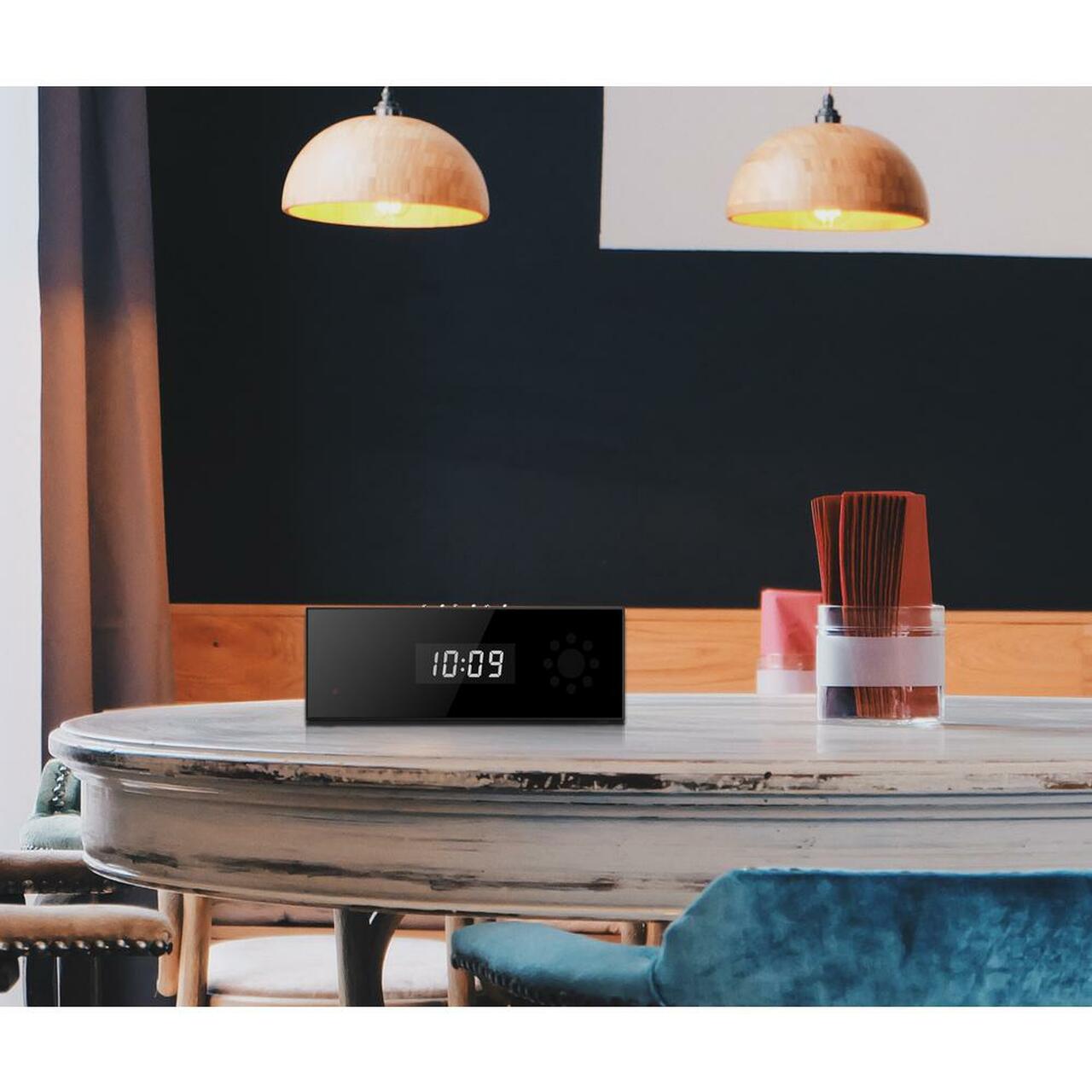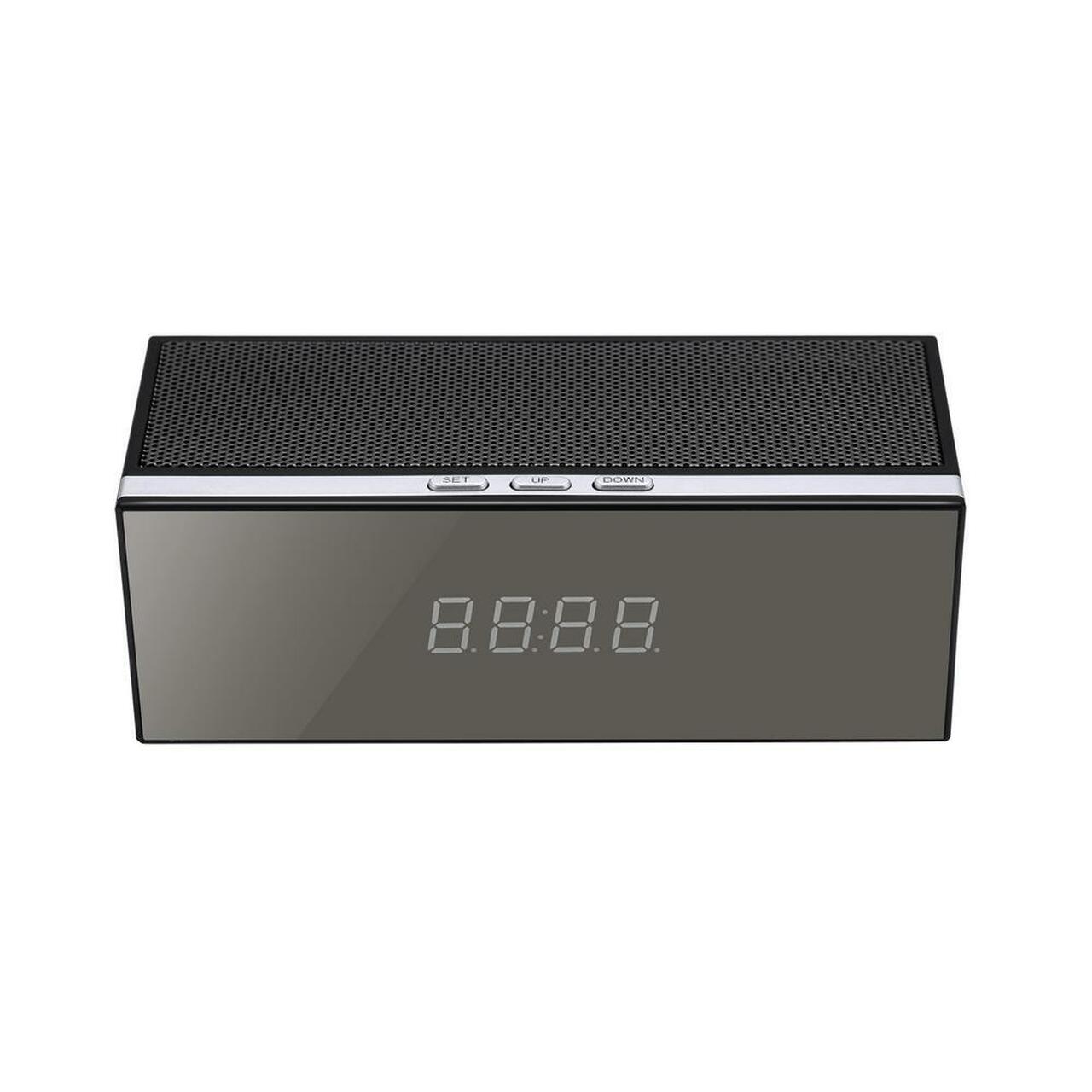 HD 1080P Wireless Speaker and Clock WIFI Hidden Camera iOS or Android
Product Description:
- Fully Functioning Bluetooth Speaker and Clock
- WIFI Camera Viewed on iOS/Android
- HD 1080P Resolution
- Video and Audio
- Nightvision
- Nanny Cam
HD 1080P WIRELESS SPEAKER AND CLOCK WIFI HIDDEN CAMERA IOS OR ANDROID
The HD Wireless Speaker and Hidden Clock Camera is a WIFI video camera that can be accessed using any smart phone or tablet with IOS or Android. It is a revolutionary product featuring Bluetooth 2.2 supreme sound while also serving as a fully functioning clock. The hidden video camera has a rechargeable battery that lasts about 6 hours on a single charge, but can also be plugged in for a constant charge. The clock and speaker WIFI camera is simple to set up by just downloading a free application. This application will allow you to view the camera from any location around the world in real time.
WHY CHOOSE THIS WIFI CLOCK BLUETOOTH SPEAKER CAMERA
This video camera is very discreet since it acts as both a speaker and a clock. Since the camera serves multiple purposes, it is highly unlikely that somebody will notice this device as a camera. The speaker provides high quality sound and also acts as a fully functioning clock. This video camera is very simple to install and installs within minutes. It also has numerous features such as text message notifications and motion activated recording which make it an ideal hidden video camera.
USES
Nanny Cam
Watch Home on Vacation
Watch Children
Domestic Abuse at Work or Home
Divorce Cases
Child Custody Cases
FEATURES
Records high definition 1080P video
Live stream on iOS or Android
4.2 Bluetooth speaker
Supports up to a 128GB SD card
Text notifications
Scheduled recording times
Wide view angle
Cycled recording
Free application
WHAT'S INCLUDED?
1080P Wireless Speaker and Clock WIFI Camera
Manual
Push pin to reset camera
Micro USB card reader
Drivers CD for computer
USB Cable
1 Year Manufacturers Warranty
SPECIFICATIONS
Video format: AVI
Video Resolution: 1080P / 720P
Battery: 6 hours on one charge
Visual Angle: 160 degrees
Storage Support: Up to 128 GB micro SD card
Wireless Audio: 4.2
Mobile Phone Operating System: Android/iOS
INSTRUCTIONS ON HOW TO CONNECT TO WIFI
Remove the battery cover from the back of the speaker and flick the power switch to the "On" position. If it isn't charged, plug the clock into a USB port
Download free app called "LookCam" in app store or Google Play Store
Go into phone's WIFI settings and connect to camera's unique WIFI (Ex: G0**********)
Open the application LooKCam. Select the + button on the top right. Select Add new online camera. Select Search (Lan). Choose the device and Press OK.
Click the Gear icon on the right side. Choose device settings and then select WIFI config. Choose your personal WIFI network and type in the right password. (Make sure the password is typed in exactly right. It is case sensitive. It will not work with the incorrect password.
The camera is now connected to the WIFI network and can be viewed remotely from any location
FAQ
Q: How do I configure the device for text message notifications?
A: Go into device settings on the application and select Alarm config. Choose the sensitivity for motion and make sure push notifications is selected.
Q: I can only see this device when I am within range. How do I see it when I leave the house?
A: Make sure you connect the device to your personal WIFI network. If you are connected to the device's unique WIFI, it is only going to work when you are in within range. Follow the directions above to connect it to your home WIFI.
Q: Is this a fully functioning speaker?
A: Yes this device functions as a clock, speaker, and a camera.
Q: How do I record onto the SD card?
A: Go into Device settings on the application and choose SD Card Record Config. You can then select record all day, scheduled recording times, or motion recording. This option also allows you to select Looped recording.
Q: Does this device stream Audio, too?
A: Yes it does.