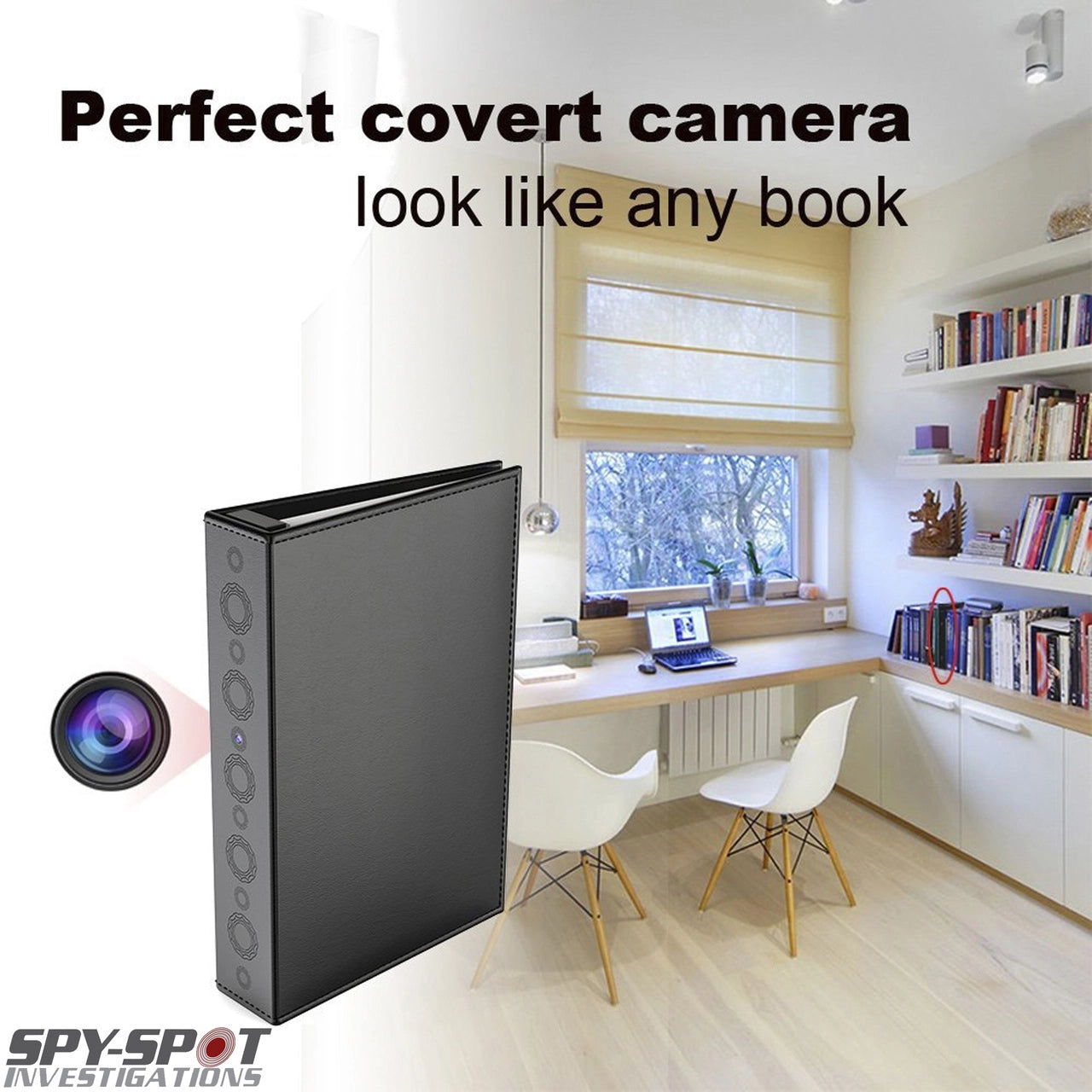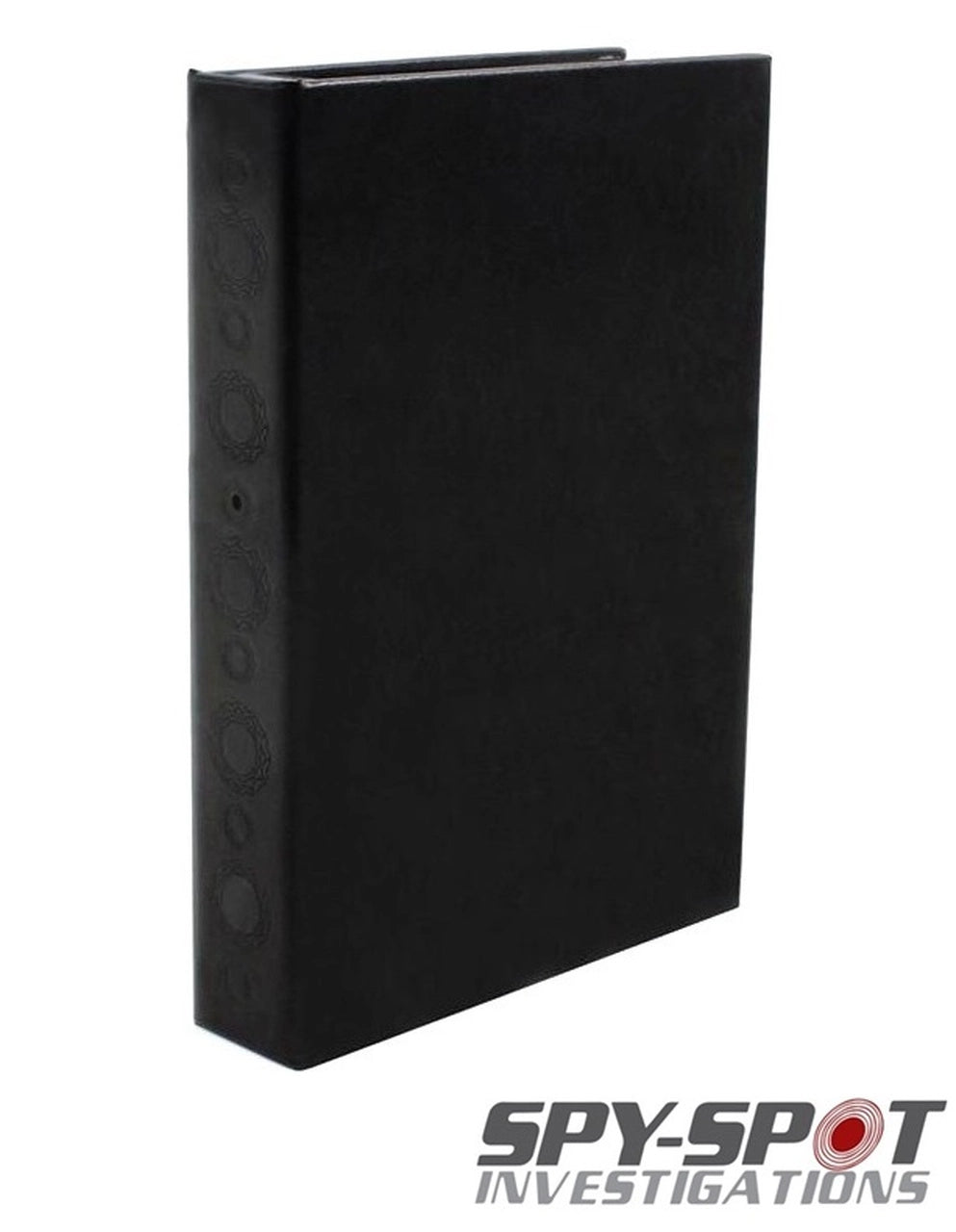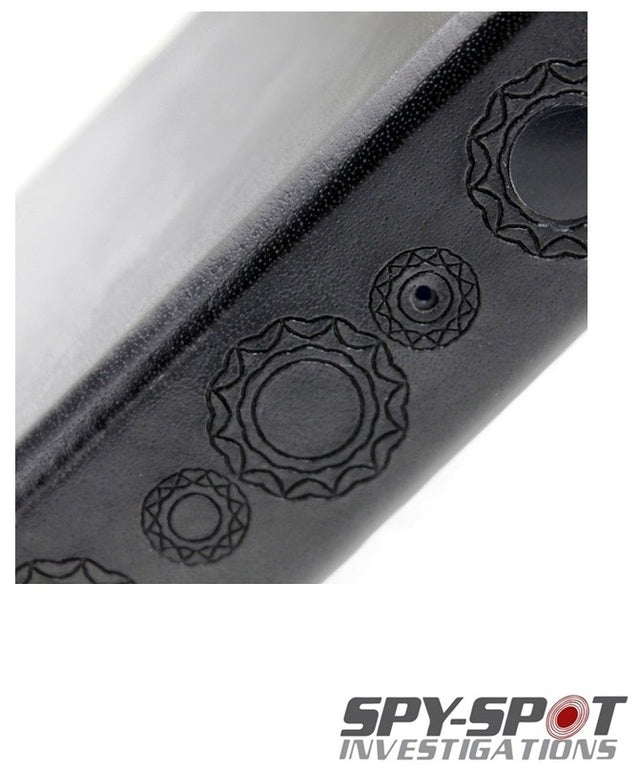 HD Book Camera with Night Vision
Product Description:
- HD Resolution
- 30 Hours Continuous Recording
- 2 Year Standby Time
- Motion Activated Recording
- Nightvision
- Supports micro SD Card (not included)
- Easy to Use
TRACK ANYWHERE ANYTTIME ALL AROUND THE WORLD: Uses GPS and satellite connectivity. No cellular network required!

POWERED BY: 4 AAA *Energizer Lithium-ion batteries(included) or with optional universal wiring harness for external power.

LIGHTWEIGHT PORTABLE DEVICE: Weighs less than 4oz. Convenient size allows it to be concealed and travel anywhere.

TRACK ASSETS, VEHICLES, AND PEOPLE IN REAL TIME: Tracks in areas with no cellular reception due to satellite technology. Keep track of boats, expensive valuables, and other items in hard to track locations.

100% SATELLITE TECHNOLOGY: Allows it to communicate from some of the most remote locations around the world.
HD BOOK CAMERA WITH NIGHT VISION
The HD Book camera is a video camera disguised as a small binder. The camera itself is difficult to detect and is found right on the binding. It can record on both motion activated recording as well as continuous video recording. The book camera has a maximum 24 month stand by time on one full charge. The camera can be placed in one spot for long periods of time allowing the battery to function for months. The resolution of the video recording is 1080P at 30 FPS. The book camera also has night vision, which can be viewed from 3-5 meters. The camera has an angle of 75 degrees and the motion detection works from 5-8 meters.
WHY CHOOSE THIS HIDDEN CAMERA
The Book Camera has a long standby battery life which is significantly higher than other comparable cameras. The long battery life is the main feature that distinguishes this camera from other devices. Also, the Book Camera has night vision so that it is able to record in low light situations. The other added benefit is that the audio can be toggled "On" or "Off" directly from the device. The camera lens is also difficult to detect since it is located in the binding of the book on the outside.
USES
Home
Shop
Office
Vacation
Nanny Cam
Child Abuse
Infidelity
Warehouse
FEATURES
Records high definition 1080P video
Long Battery Life up to 2 Years on Standby
Night vision
Supports up to a 32GB SD card
Motion activated recording
Easy playback using Windows or MAC computer
WHAT'S INCLUDED?
1080P Book Camera
Manual
Micro USB card reader
Audio and Video Surveillance Sticker
Push Pin Reset
USB Cable
1 Year Manufacturers Warranty
SPECIFICATIONS
Size: 21*15*4CM
Battery: LiPo
Camera angle: 75 degrees
Max PIR stand-by time: 2 years
Max day time recording time: 30 hours
Resolution: 1080P
FPS: 30FPS
Max SD Storage: 32GB
INSTRUCTIONS ON HOW TO USE HD BOOK CAMERA
Charge the device by connecting the book camera to USB port. Charge for at least 8 hours.
Insert micro SD card up to 32GB into device
To record continuous video, press power button once and then press "Rec" button once. Light will flash blue and then go off. Press "Rec" button again to save recording file.
To record only while in motion detection, simply press the motion button once. Press again to stop recording and save the file.
To play back files, take the micro SD card out of the device and connect it to the card reader. Connect the card reader to the computer and open removeable disk folder to play back files.
FAQ
Q: Can this device work while being plugged in?
A: No. The device needs to be battery powered to function correctly.
Q: Does this device display the date and time?
A: Yes the date and time can be configured by following the instructions in the manual.
Q: Can I use this device at night?
A: Yes the book camera has night vision for low light situations.
Q: Why does the light keep blinking and files aren't recording when I try to record video?
A: Make sure that the micro SD card is inserted inside the device and that you aren't using a card larger than 32 GB.
Q: Does this device record audio?
A: Yes. Audio can be toggled on and off from device.