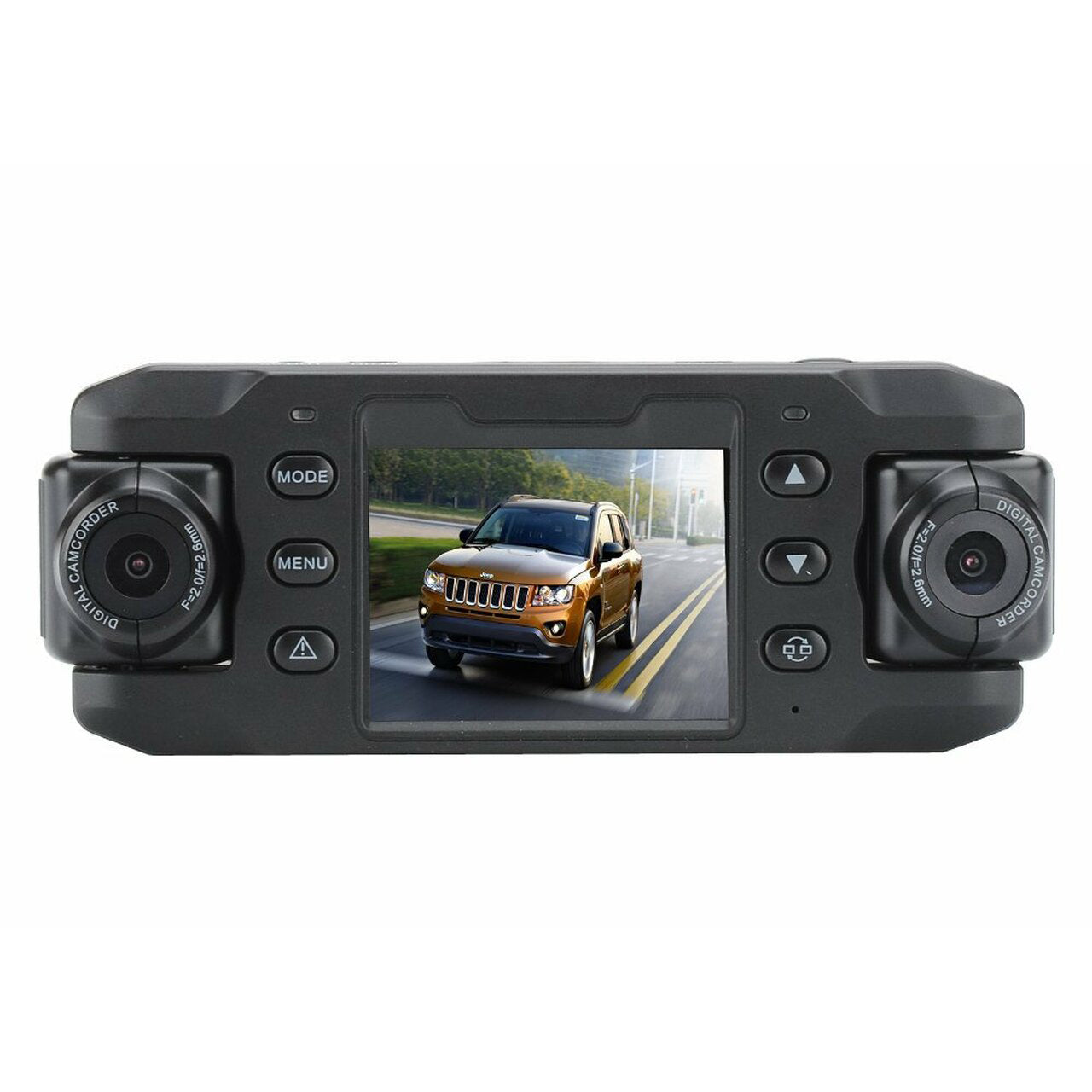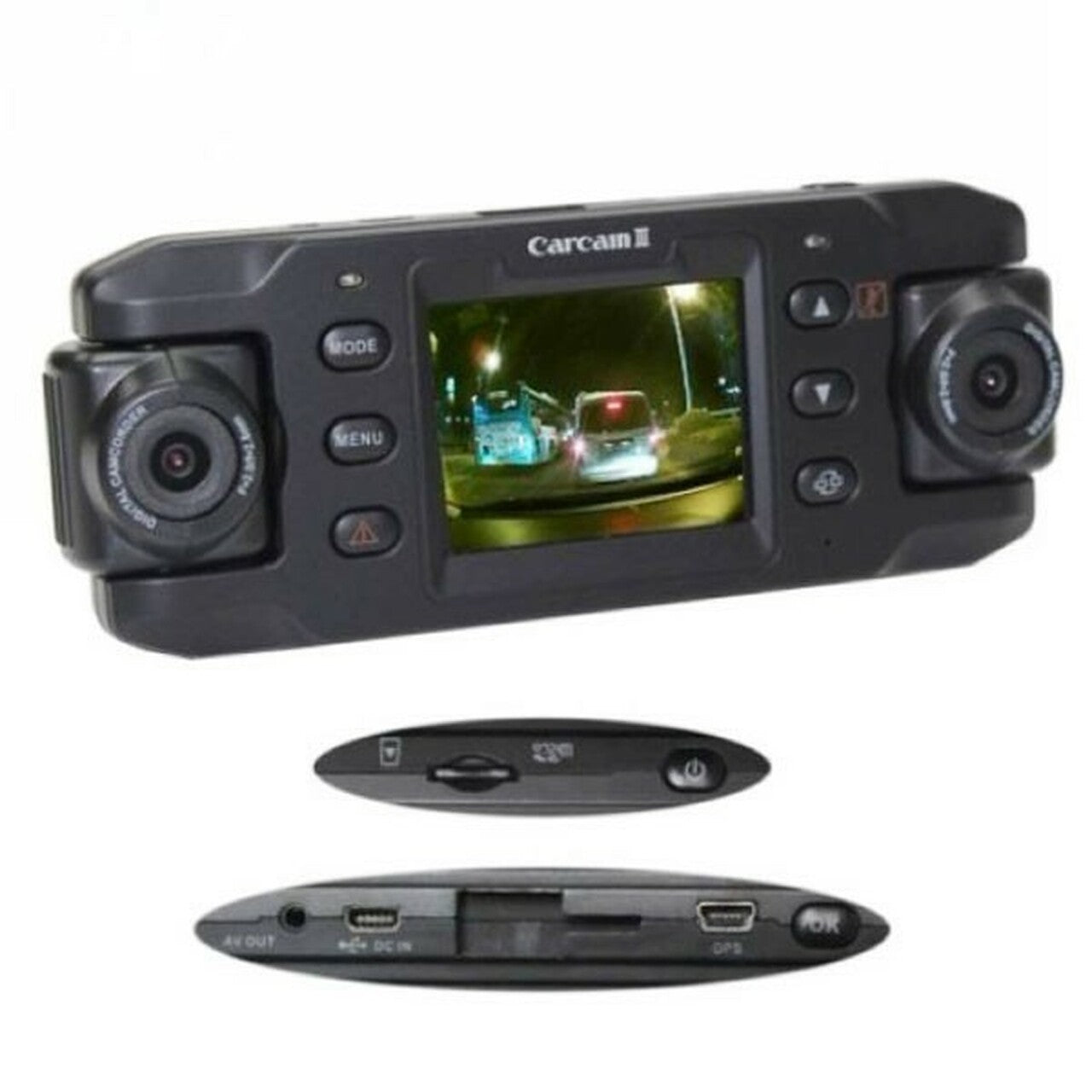 HD Car Camcorder Dash Cam with Dual Front and Back Screens
Product Description:
- Dual Lens Dash Cam
- Front, Back, or Side Camera
- Supports up to 64 GB micro SD card (not included)
- HD Resolution
- Looped Recording
TRACK ANYWHERE ANYTTIME ALL AROUND THE WORLD: Uses GPS and satellite connectivity. No cellular network required!

POWERED BY: 4 AAA *Energizer Lithium-ion batteries(included) or with optional universal wiring harness for external power.

LIGHTWEIGHT PORTABLE DEVICE: Weighs less than 4oz. Convenient size allows it to be concealed and travel anywhere.

TRACK ASSETS, VEHICLES, AND PEOPLE IN REAL TIME: Tracks in areas with no cellular reception due to satellite technology. Keep track of boats, expensive valuables, and other items in hard to track locations.

100% SATELLITE TECHNOLOGY: Allows it to communicate from some of the most remote locations around the world.
THE DUAL SCREEN DASH CAM
The dual screen dash camera is a high definition video camera that records both video and audio. The camera simply plugs into the cigarette lighter of the vehicle and mounts onto the windshield of the vehicle. The dash cam uses a micro SD card and supports up to 64 GB (not included). The vehicle camera comes equipped with two cameras, one for the front and another for the back. This allows everything to be recorded in front of the driver as well as the passengers inside the vehicle. The camera can also be used to record the side of the vehicle. It comes with a suction cup mount, which allows it to easily mount to the windshield of the vehicle. The camera also has a built in rechargeable battery that can last up to 60 minutes on a single charge.
WHY CHOOSE THIS DASH CAM
This vehicle camera is unique since it has two cameras that can be rotated. The cameras can be rotated to face either the side, front, or back. This camera can be used as insurance in case of an accident or if you get pulled over by an officer. It records in high definition resolution which allows for a clear picture. It also supports looped recording, which allows the older recordings to overwrite themselves.
USES
Vehicle accident
Pulled over by officer
Uber or Taxi driver
Vehicle theft
Vehicle vandalism
Private Investigator
FEATURES
Looped recording to overwrite itself when memory is full
Anti-shake keeps camera steady while vehicle is in motion
Dual rotatable camera lens up to 180 degrees
Recordings can be password protected
Built in G-sensor will allow recordings to automatically be saved in case of accident
Embedded time/date stamp
Playback through any PC or MAC or device itself
WHAT'S INCLUDED?
Dual Screen Dash Camera
Vehicle charger
Suction cup mount
Manual
1 Year Manufacturers Warranty
SPECIFICATIONS
Built-in G-sensor
Support external GPS
Password protection function for recordings
High resolution video 1280x480/30 FPS
2.3" LCD Screen
Micro SD card support up to 64 GB (not included)
AV out function
DC input of automobile: 5V 500MA
Battery: Built in polymer lithium battery
INSTRUCTIONS ON HOW TO USE THE DUAL SCREEN DASH CAM
Mount on the windshield using the included mount attachment
Make sure the micro SD card (not included) is inserted inside the device
Plug the device into the cigarette lighter of the vehicle
When the vehicle is turned on, the device will start recording
When the vehicle is turned off, recordings will be saved and camera will stop recording
FAQ
Q: Does this unit support motion activated recording?
A: Yes it can be configured for motion detection.
Q: What is the largest SD card I can use inside this device?
A: This device supports up to a 64 GB micro SD card.
Q: Does this require professional installation?
A: No the device simply plugs into the cigarette lighter port and mounts on the windshield.
Q: Will this device work in all vehicles?
A: Yes as long as the vehicle has a cigarette lighter port.