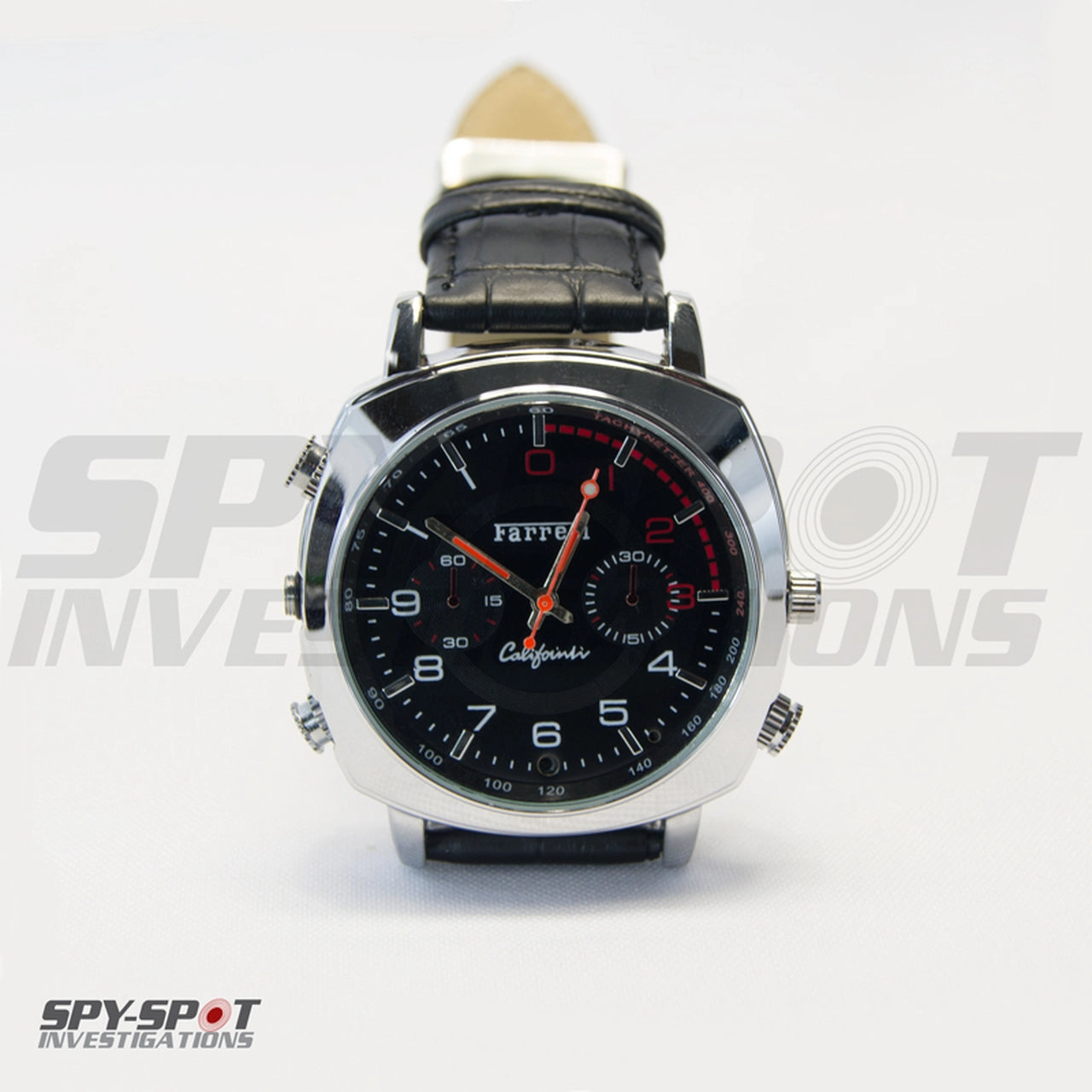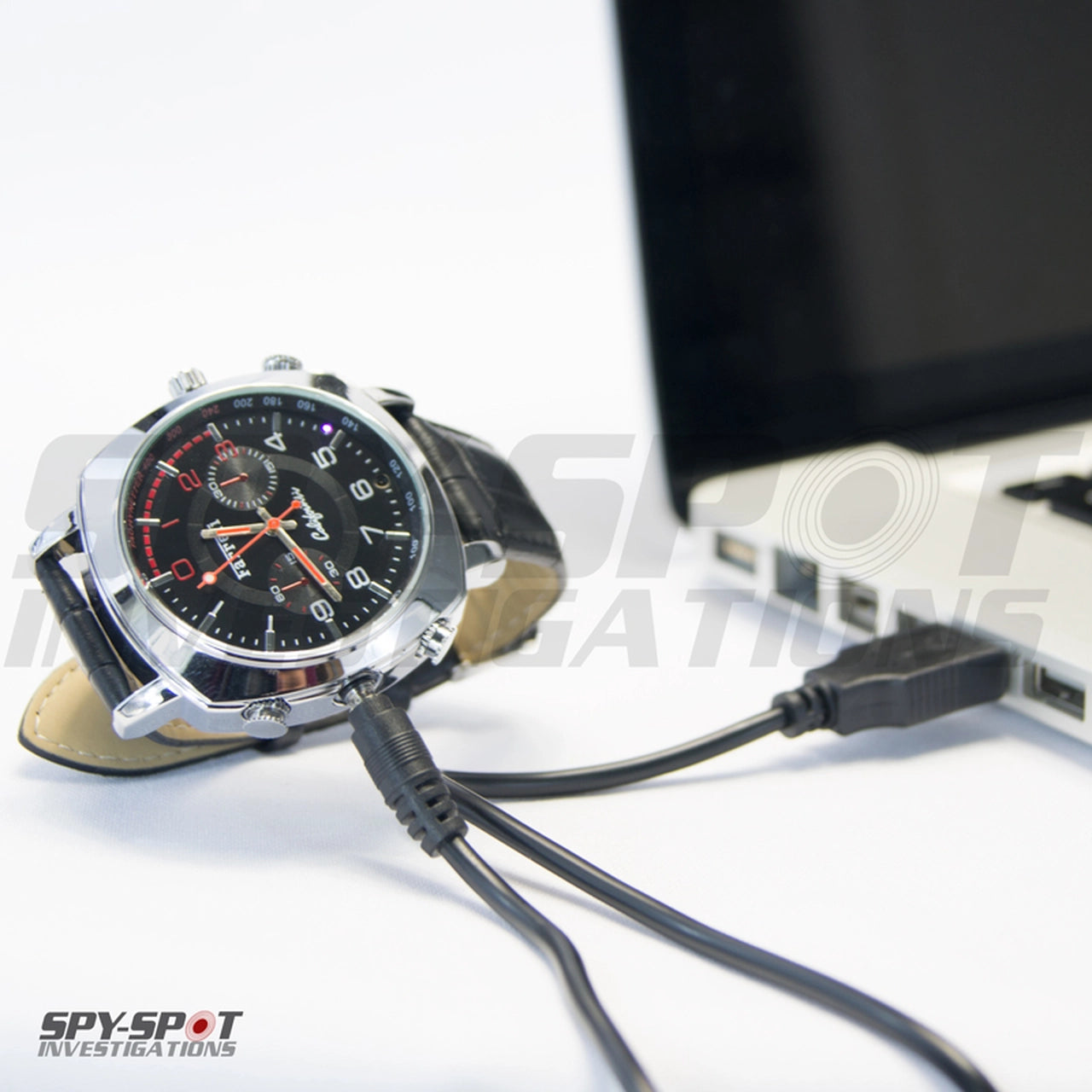 HD Video Camera Watch
Product Description:
- Fully Functioning Watch
- 1080P HD Resolution
- Hidden Camera
- 2 Hour Battery Life
- Rechargeable Battery
- Playback Through PC or MAC
- Easy to Use
TRACK ANYWHERE ANYTTIME ALL AROUND THE WORLD: Uses GPS and satellite connectivity. No cellular network required!

POWERED BY: 4 AAA *Energizer Lithium-ion batteries(included) or with optional universal wiring harness for external power.

LIGHTWEIGHT PORTABLE DEVICE: Weighs less than 4oz. Convenient size allows it to be concealed and travel anywhere.

TRACK ASSETS, VEHICLES, AND PEOPLE IN REAL TIME: Tracks in areas with no cellular reception due to satellite technology. Keep track of boats, expensive valuables, and other items in hard to track locations.

100% SATELLITE TECHNOLOGY: Allows it to communicate from some of the most remote locations around the world.
1080P HD VIDEO CAMERA WATCH
The 1080P HD Watch Camera is a wearable video camera that records up to 2 hours of video and audio on a single charge. The camera is discretely located by the number "6" inside the face of the watch. The camera has 8 GB of built in memory and recordings can be played back on any PC or MAC.
WHY CHOOSE THIS WEARABLE VIDEO CAMERA
This 1080P HD Watch Camera is a fully functioning watch. The camera is disguised inside the watch so it gives off the apperance of being a normally functioning watch. The camera uses one touch recording so it can be used to record in locations where pulling out a phone or camera may be difficult. Just aim the watch where you want to record and press the record button.
USES
Interviews
Lectures
Meetings
Recreation
Sporting Events
FEATURES
Rechargeable Lithium Ion Battery
Fully Functioning Watch Battery
8 GB built in memory
WHAT'S INCLUDED?
1080P HD Watch Camera
USB Cable
Instruction Manual
Wall Plug Adapter
1 Year Manufacturers Warranty
SPECIFICATIONS
Video Format: AVI
Video Coding: M-JPEG
Resolution: 1920*1080
Picture Format: JPG
OS: Windows or MAC, Linux
Battery: High-capacity polymer lithium battery
INSTRUCTIONS ON HOW TO OPERATE 1080P WATCH CAMERA
First, charge the device by plugging in the included micro USB cable into the watch and the other end into a USB port. It takes about 3 hours to fully charge the device.
Press and hold the button located by the "2" for 3 seconds. The watch will turn on and the red light will blink three times and then turn off. This will start recording video onto the watch's internal memory.
To stop recording, hold down the button located by the "2" until the device turns off.
Plug the watch directly into a computer to play back the video files on a computer. Open up the removeable disk drive once connected to MAC or PC. Recordings can be played back through VLC media player or Windows Media Player.
FAQ
Q: Can this device record at night?
A: No. This device does not have infrared.
Q: Can I record audio with this device?
A: Yes this device records both video and audio.
Q: Does this device tell time?
A: Yes it is a fully functioning watch and has a separate battery for the watch.