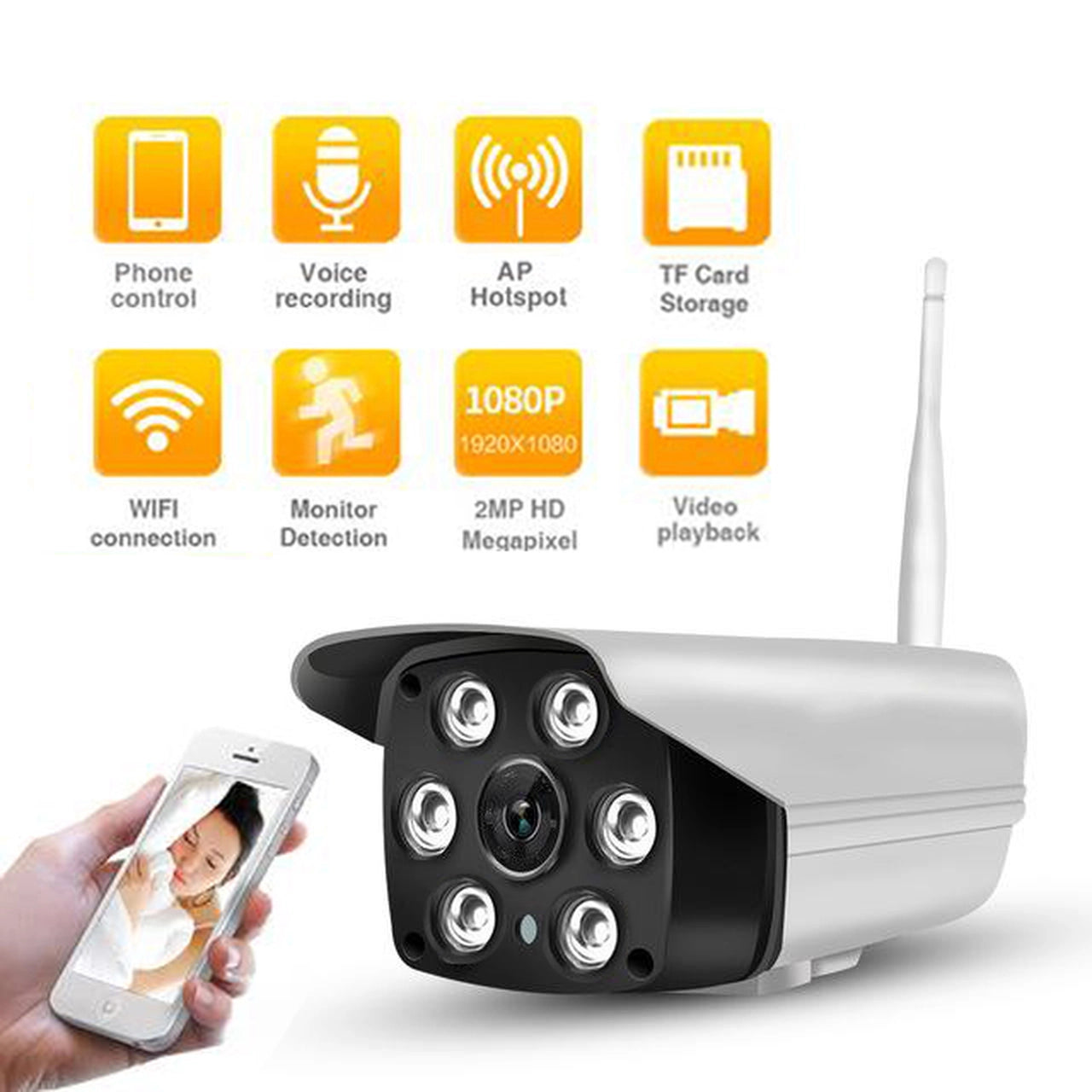 HD WIFI Outdoor Real Time Remote Viewing Digital Video Camera
Product Description:
- Full 1080P HD Resolution
- Video and Audio
- Outdoor Wireless Camera
- Infrared for Low Light
- WIFI Live Stream Camera
- Motion Sensor Text Notifications
- View on iOS/Android Device
TRACK ANYWHERE ANYTTIME ALL AROUND THE WORLD: Uses GPS and satellite connectivity. No cellular network required!

POWERED BY: 4 AAA *Energizer Lithium-ion batteries(included) or with optional universal wiring harness for external power.

LIGHTWEIGHT PORTABLE DEVICE: Weighs less than 4oz. Convenient size allows it to be concealed and travel anywhere.

TRACK ASSETS, VEHICLES, AND PEOPLE IN REAL TIME: Tracks in areas with no cellular reception due to satellite technology. Keep track of boats, expensive valuables, and other items in hard to track locations.

100% SATELLITE TECHNOLOGY: Allows it to communicate from some of the most remote locations around the world.
HD 1080P WIFI OUTDOOR REAL TIME REMOTE VIEWING DIGITAL VIDEO CAMERA
The HD WIFI Outdoor Camera is a remote video camera that can be accessed using any smart phone running iOS or Android. It streams in full 1080P high definition and also has infrared for low light situations. It is simple to connect through WIFI and also uses a micro SD card to save the recordings. Recordings can be configured for motion activated recording as well as continuous recording. It also records and streams audio.
WHY CHOOSE THIS OUTDOOR CAMERA
The HD Outdoor Camera is able to be streamed remotely using a smart phone, which makes it the ideal camera for outside your home or office. It utilizes a free application and only uses one cable which is for the power. The camera is also weatherproof, which allows it to be placed in any location. Most other outdoor cameras use standard TV lines such as 500, 600, or 700 where this camera streams in full 1080P resolution. The camera also works at night time due to infrared.
USES
Home
Office
Work
Vacation
FEATURES
Records high definition 1080P video
Live stream on iOS or Android
Clear night vision
Two way audio
Supports SD card recording
Text notifications
Wide view angle
Motion activated recording
Free application
WHAT'S INCLUDED?
1080P Outdoor WIFI Camera
Manual
Internet and power cable
Wall Plug Adapter
Installation Mount
1 Year Manufacturers Warranty
SPECIFICATIONS
Video Resolution: 1920 * 1080P
Storage Support: Up to 64 GB micro SD card
Night Vision: Yes
Mobile Phone Operating System: Android/iOS
INSTRUCTIONS ON HOW TO CONNECT TO WIFI
Plug in the outdoor camera using the wall plug adapter. Wait a minute for the device to boot up.
Download free app called "V380S" in app store or Google Play Store
Go into phone's WIFI settings and connect to camera's unique WIFI (Ex: MV..........)
Open the application "V380S". Select the + button on the top right. Select New Device Configuration.
Click the Next Button.
Select your WIFI from the list and type in the WIFI Password. (Make sure the password is typed exactly right. It is case sensitive. It will not work with the incorrect password. Click Start.
Wait for the camera to say WIFI connected.
The camera is now connected to the WIFI network and can be viewed remotely from any location
FAQ
Q: Does this need to be plugged in to work?
A: Yes the device will only work while connected with the included power adapter.
Q: Does this device stream Audio, too?
A: Yes it does.