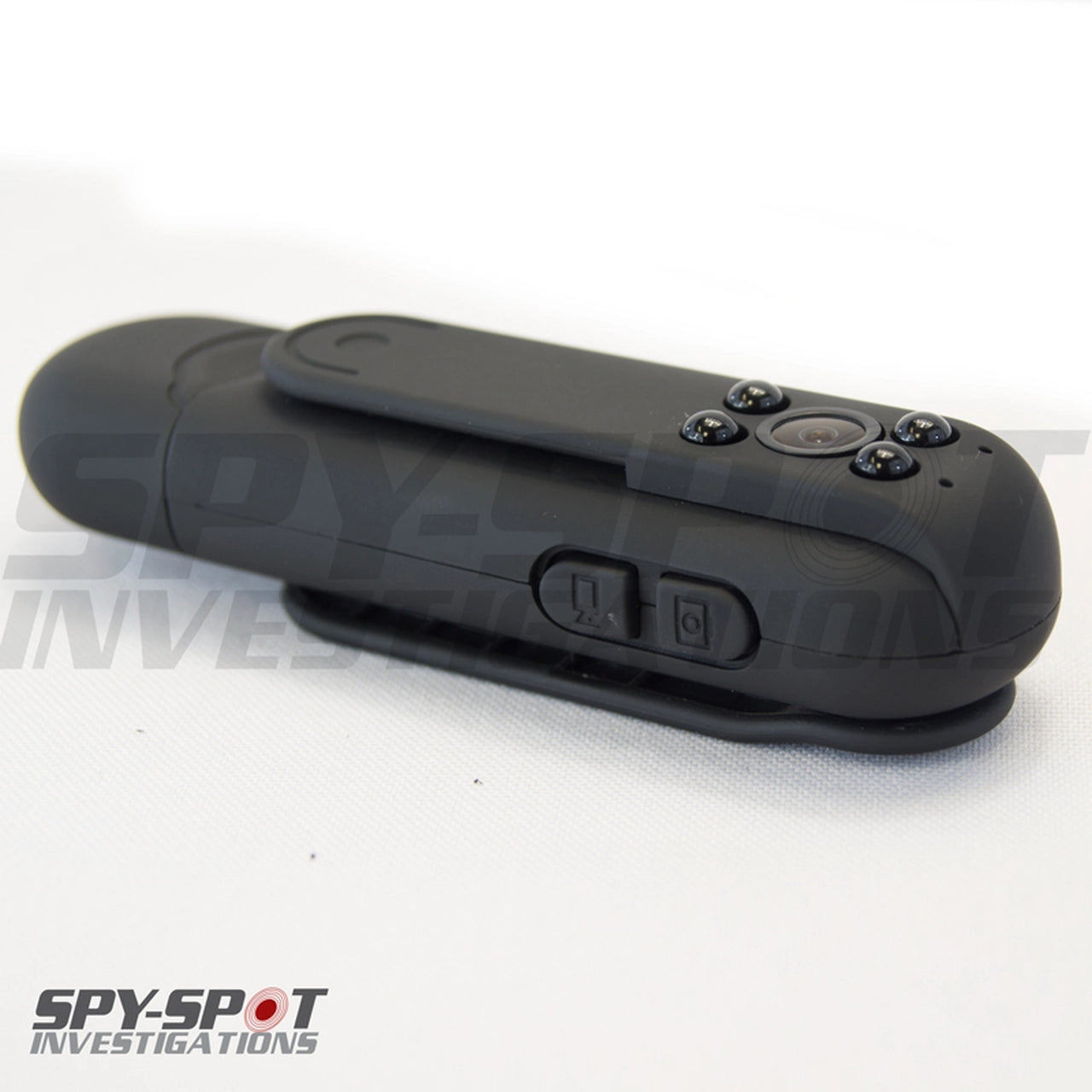 WIFI Clip on HD Camera
Product Description:
- Wearable Body Camera
- 1080P HD Resolution
- 12 Hour Battery Life
- Rechargeable Battery
- 5 Ultra Infrared Lights
- Live Stream Using iOS/Android Device
TRACK ANYWHERE ANYTTIME ALL AROUND THE WORLD: Uses GPS and satellite connectivity. No cellular network required!

POWERED BY: 4 AAA *Energizer Lithium-ion batteries(included) or with optional universal wiring harness for external power.

LIGHTWEIGHT PORTABLE DEVICE: Weighs less than 4oz. Convenient size allows it to be concealed and travel anywhere.

TRACK ASSETS, VEHICLES, AND PEOPLE IN REAL TIME: Tracks in areas with no cellular reception due to satellite technology. Keep track of boats, expensive valuables, and other items in hard to track locations.

100% SATELLITE TECHNOLOGY: Allows it to communicate from some of the most remote locations around the world.
THE WIFI HD CLIP ON CAMERA
The WIFI HD Clip on Camera is a wearable camera device that streams high definition video. It can record up to a resolution of 1080P and be viewed from any phone, tablet, or computer. The WIFI Clip on Camera has its own unique WIFI or it can be connected to a wireless network and streamed live.
WHY CHOOSE THIS WIFI BODY CAMERA
This WIFI body camera has a long battery life that can last up to 12 hours on a single charge. It also features a rechargeable battery and can also be plugged in for a constant charge. This body camera also has ultra night vision which allows it record in low light. The camera has a motion sensor and can also provide text alerts of any motion detection.
USES
Meetings
Law Enforcement
Recreation
Interviews
Private Investigator
Sports
FEATURES
Night Vision
12 hour battery life
Live stream using iOS or Android
Easy to use free application
Durable clip
WHAT'S INCLUDED?
WIFI Clip on Body Camera
USB Cable
Wall Plug Adapter
USB Micro SD Card Reader
Manual
1 Year Manufacturers Warranty
SPECIFICATIONS
Video Resolution: 1080P HD
View Angle: 140 degree wide-angle lens
Infrared: 5 Ultra Infrared Lights
Mobile Operating System: Android/iOS
Computer Operating System: Windows me/2000/xp/2003/vista/7/8; MAC os 104; Linux
INSTRUCTIONS ON HOW TO OPERATE WIFI BODY CAMERA
First, charge the device by plugging the device into a wall outlet or USB port with the supplied cable. It takes about 3 hours to fully charge the device.
Flick the power button downwards to the "On" position.
Download the application by typing, "Sancam" in the app store or Google play store.
Open up phone's WIFI settings and connect directly to the camera's WIFI
Open up the application. It will automatically add the camera on the application. If it doesn't add the camera automatically, press the "+" button on the top right. Choose Add New Online Camera. Select Search(Lan) and choose the device.
Now you can open up the application and take videos and pictures as long as you are within range of the camera.
If you want to connect the device to a WIFI or hot spot, click the gear icon on the right side. Choose Device Settings. Select WIFI Config and select your WIFI network or hot spot from the list. Put in the correct WIFI password and save the changes. The device will now be permanently connected to that WIFI network or hot spot.
FAQ
Q: What application do I need to download to stream video?
A: Download the app, "Sancam" from the app store or Google Play store.
Q: Does this camera record at night?
A: Yes. The camera has night vision.
Q: Can I stream audio with this device?
A: Yes this device streams both video and audio.
Q: Does this device support a micro SD card?
A: Yes it supports up to a 64 GB micro SD card
Q: Can I record directly from my phone?
A: Yes you can take still photos and also record video and audio right from the application.
Q: Can I connect this to a hot spot?
A: Yes. It can be connected to a hot spot or WIFI network.