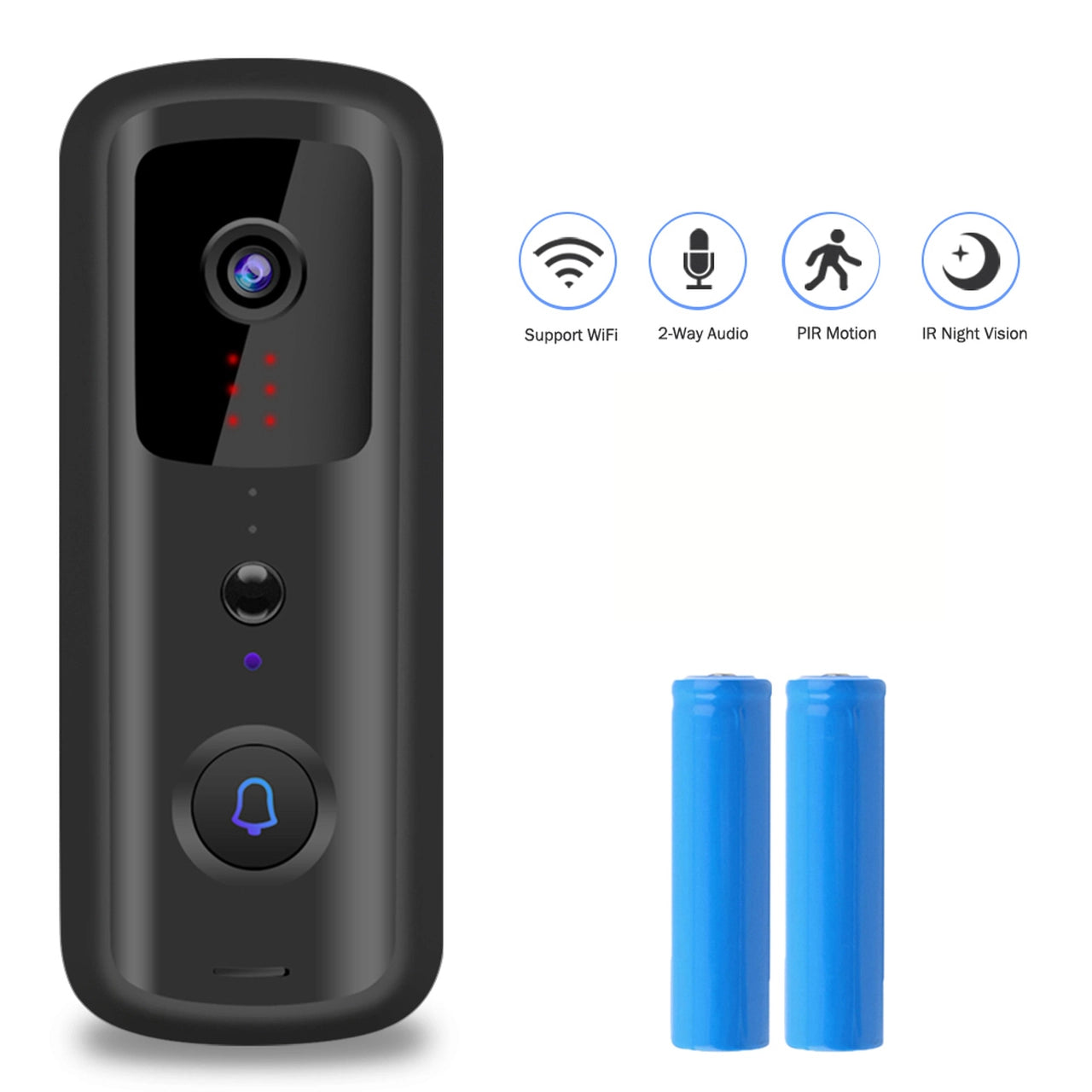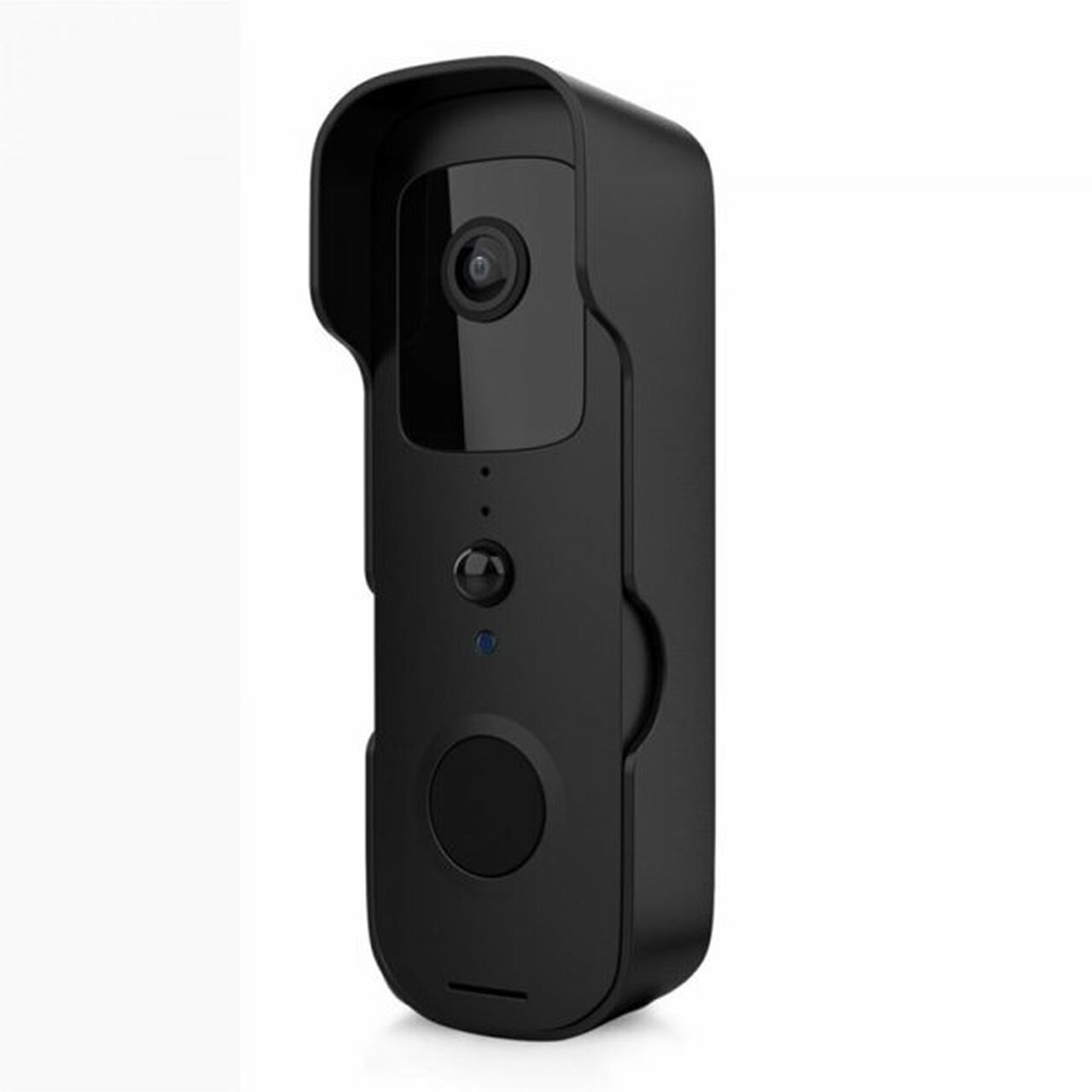 WIFI Doorbell Video Camera Intercom IR Night Vision
Product Description:
- Video Doorbell will Ring Phone
- Live Feed of Camera with Two Way Audio
- Nightvision
- Long Battery Life
- Rechargeable Battery
- Easy to Setup
- Recordings can be Saved onto Micro SD Card (not included)
The WIFI DOORBELL VIDEO CAMERA
The WIFI Doorbell Video Camera is a video camera that mounts on the door. Whenever a person rings the doorbell, an alert will go right to the owner's phone and they will be able to pull up the camera. Using any smart phone, the owner will be able to see a live video feed of the person at the door and communicate with that person. It uses a long rechargeable battery that can last up to 2 months on a single charge. It features a high definition camera with night vision.The doorbell camera installs within minutes and requires no professional help or any additional tools.
WHY CHOOSE THIS DOORBELL CAMERA
Competing doorbell cameras such as Ring charge a monthly service fee for cloud storage. This device has no extra fees besides buying the product itself. The application is completely free and all the recordings are stored onto a micro SD card. Recordings are able to be accessed directly from the application. The doorbell camera has a long battery life and can be recharged using a USB cable. The camera has night vision and will provide text notifications of any motion detection.
USES
Home
Vacation
Work
Warehouse
Delivery
FEATURES
Motion detection notifications
Two way audio
Clear HD resolution
Infrared
Free application for iOS or Android
Long battery life
Easy to mount
Simple WIFI setup
WHAT'S INCLUDED?
WIFI Doorbell Camera
Instruction Manual
Screws
1 Year Manufacturers Warranty
SPECIFICATIONS
Resolution: 1080P
Angle: 166 degrees
IR Night Vision: 6 pieces 850mm
WIFI: Support 802.11 b/g/n
Audio: Support talkback
Record: Micro SD Card
Memory: 8GB / 16 GB / 32 GB
Battery: 2 months of battery life
Power Consumption: 200uA
Working Current: 170mA
INSTRUCTIONS ON HOW TO CONNECT TO WIFI
Download free app called "Tuya Smart" in app store or Google Play Store.
Make sure you are connected to your existing WIFI network.
Open the application. Register your email or phone number and Log in to your account.
Select the + at top right of home page. Then select Smart Camera.
Open the battery cover and remove the insulation tabs. When you hear the camera is now ready to begin pairing and the LED light is flashing blue quickly. Tap next step.
Find the name of your Wi-Fi network. Enter your Wi-Fi password, then tap confirm.
Tap Continue, then use the doorbell to scan the QR code on your mobile phone. After you hear a prompt, tap I heard a prompt.
Once the doorbell has connected to your Wi-Fi, tap Done. Setup is complete.
FAQ
Q: Will I hear my doorbell ring inside my home when somebody rings the camera?
A: No. It will ring your phone and the person outside will hear a Doorbell sound, but it will not ring inside the house.
Q: How are recordings saved onto the micro SD card?
A: The camera has a motion sensor so whenever somebody walks in front of the camera, the recordings are saved onto the micro SD card which can then later be accessed from the phone.
Q: How do I turn on the night vision?
A: The night vision will activate automatically as soon as the illumination is less than 2 lux.