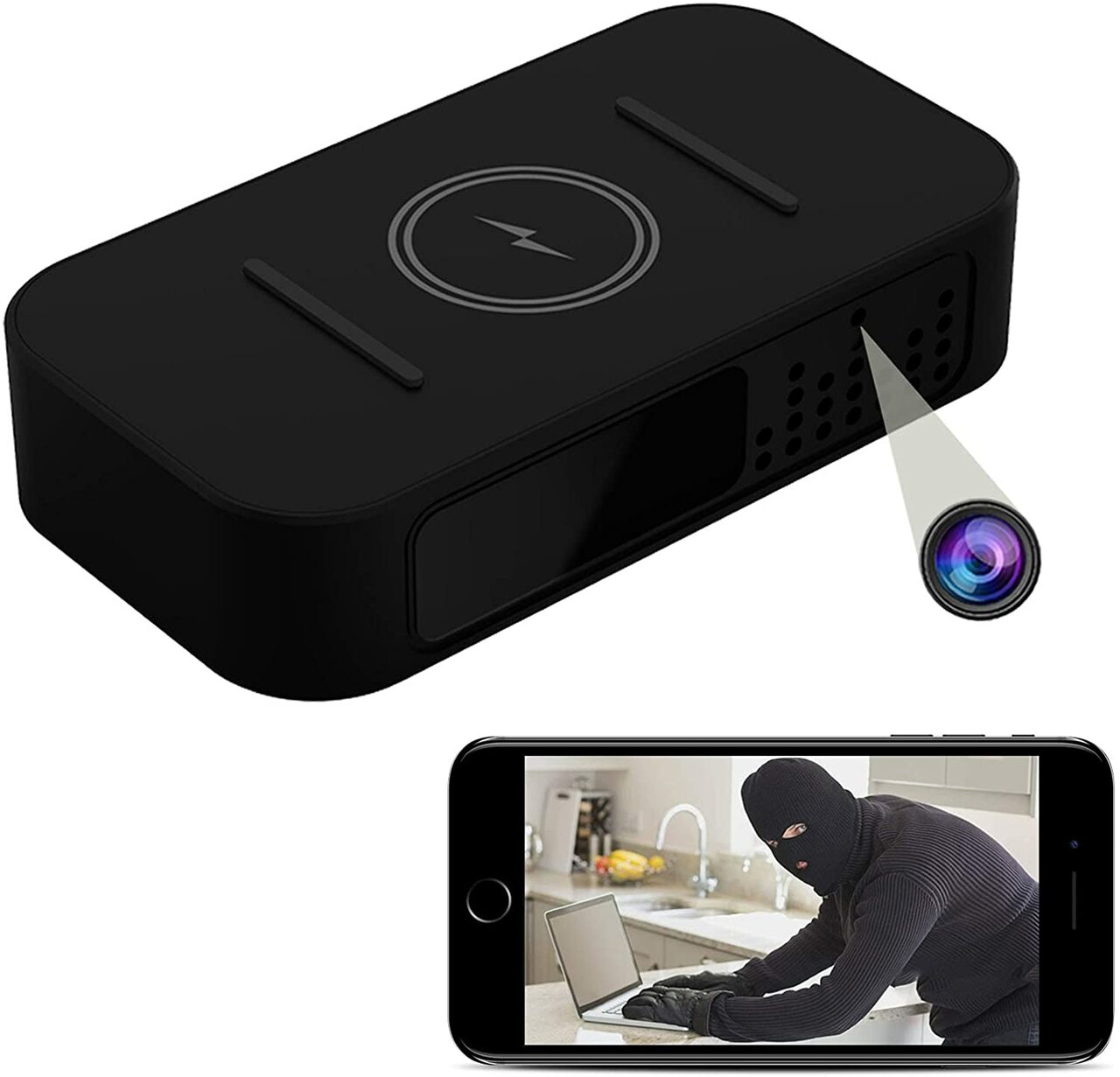 WIFI WIreless Phone Charger 1080P Security Camera iOS Android
Product Description:
- 1080P HD Resolution
- WIFI Live Stream on iOS/Android
- Free Application
- Easy to Setup
- Motion Detection Text Notifications
- Video and Audio
TRACK ANYWHERE ANYTTIME ALL AROUND THE WORLD: Uses GPS and satellite connectivity. No cellular network required!

POWERED BY: 4 AAA *Energizer Lithium-ion batteries(included) or with optional universal wiring harness for external power.

LIGHTWEIGHT PORTABLE DEVICE: Weighs less than 4oz. Convenient size allows it to be concealed and travel anywhere.

TRACK ASSETS, VEHICLES, AND PEOPLE IN REAL TIME: Tracks in areas with no cellular reception due to satellite technology. Keep track of boats, expensive valuables, and other items in hard to track locations.

100% SATELLITE TECHNOLOGY: Allows it to communicate from some of the most remote locations around the world.
THE HD WIFI WIRELESS CHARGER CAMERA CAMERA
The HD WIFI WIreless Charger Camera is a high definition video camera that can be accessed using a smart phone such as an Android or iPhone. It is disguised to look like a wireless phone charger and is simple to use. Simply plug the charger into a wall outlet and place phone on top of device to charge wirelessly. The camera streams and records video in 1080P resolution. It can also record audio. The camera supports up to a 64 GB micro SD card and recordings can be played back from a smart phone or a computer. The HD wall plug camera installs within minutes and simply involves the installation of a free app on the computer.
INSTRUCTIONS ON HOW TO CONNECT TO WIFI
Plug camera into wall outlet using included charger
Download free app called "Camama" in app store or Google Play Store
Go into phone's WIFI settings and connect to camera's unique WIFI (Ex: Camama_*******)
Open the application. The program should add the camera automatically, but if it doesn't Click the + Button on the top right. Click the button that says Add new online camera. Click Search (Lan) and select the device. Press Ok to save.
Click the setting button and select WIFI Setting. Click manage Wi-Fi networks and choose your home WIFI and put in your password. NOTE: Make sure you are using a 2.4 WIFI
The camera is now connected to the WIFI network and can be viewed remotely from any location
USES
Nanny Cam
Watch Home on Vacation
Problems With Spouse
Watch Children
Domestic Abuse at Work or Home
Child Abuse
Divorce Cases
Child Custody Cases
FEATURES
Records high definition 1080P video as well as audio
Time and date stamped video and audio recordings
Supports up to a 64GB SD card
Text message notifications of any motion to phone
Scheduled recording times
Looped recording
Free application
WHAT'S INCLUDED?
1080P HD WIFI Wireless Charger Camera
Manual
1 Year Manufacturers Warranty
SPECIFICATIONS
Video format: AVI
Video Resolution: 1080P/2K/4K
Video frame rate: 30 frames per second
Visual Angle: 130 degrees
Motion Detection: 6 meters
Night Vision - 5-8 meters
Photographing: 12 million pixels
Picture Format: JPG
Storage Support: Up to 64 GB micro SD card
FAQ
Q: I can only see this device when I am within range. How do I see it when I leave the house?
A: Make sure you connect the device to your personal WIFI network. If you are connected to the device's unique WIFI, it is only going to work when you are in within range. Follow the directions above to connect it to your home WIFI.
Q: Does this device stream Audio, too?
A: Yes it does.
Q: How long does the battery last?
A: This camera does not have an internal battery, it always has to be connected to power to be able to work.